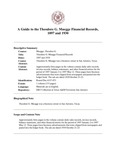 Muegge (Theodore G.) Financial Records, 1897 and 1930
Description
Theodore G. Muegge was a business owner in San Antonio, Texas.
Approximately forty pages in the volume contain daily sales records, invoice records, balance statements, and other financial entries for the period of 1897 January 2 to 1897 May 12. Three pages have business advertisements that were clipped from newspapers and pasted into the ledger book. The ads are dated 1930 October 21-23.
This paper has been withdrawn.