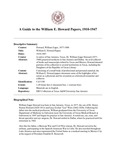 Howard (William E.) Papers, 1910-1947
Description
A native of San Antonio, Texas, Dr. William Eager Howard (1877-1948) practiced medicine in San Antonio and Dallas. An avid collector of books and manuscripts related to Texas and Mexico, Howard donated portions of his collection to several institutions in Texas, including the Daughters of the Republic of Texas Library.
Consisting of a small body of professional and personal material, the William E. Howard papers document some of the highlights of his career as a physician and his avocation as a historical researcher and collector.
This paper has been withdrawn.