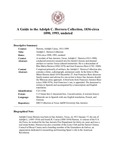 Herrera (Adolph C.) Collection, 1836-circa 1890, 1993, undated
Description
A resident of San Antonio, Texas, Adolph C. Herrera (1913-1999) conducted extensive research into his family's history and donated artifacts to various Texas cultural institutions. He is a descendant of Blas Maria Herrera (1802-1878) and José Francisco Ruiz (1783–1840).
Comprised primarily of artifacts, the Adolph C. Herrera Collection also contains a letter, a photograph, and prayer cards. In the letter to Blas Maria Herrera dated 1836 December 27, José Francisco Ruiz discusses family matters and advises his son-in-law to leave San Antonio should the Mexican army approach. A brief note from Francisco Antonio Ruiz (circa 1804-1876), José Francisco's son, is appended. The document is written in Spanish and accompanied by a transcription and English translation.
This paper has been withdrawn.