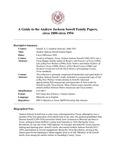 Sowell (Andrew Jackson) Family Papers, circa 1880-circa 1954
Description
A native of Seguin, Texas, Andrew Jackson Sowell (1848-1921) was a Texas Ranger and the author of Rangers and Pioneers of Texas (1884), Life of Big Foot Wallace (1899), Early Settlers and Indian Fighters of Southwest Texas (1900), History of Fort Bend County (1904), and Incidents Connected with the Early History of Guadalupe County, Texas (undated).
The collection is primarily comprised of handwritten and typed drafts of Andrew Jackson Sowell's works. Included is a manuscript copy of Life of Big Foot Wallace written entirely in Sowell's hand and approximately fifty manuscripts and typescripts of short works by Sowell on early Texas history. Most of these essays describe various armed conflicts between Native Americans and Texas settlers.
This paper has been withdrawn.