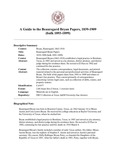 Bryan (Beauregard) Papers, 1839-1909 (bulk 1893-1899)
Description
Beauregard Bryan (1862-1918) established a legal practice in Brenham, Texas, in 1885 and served as city attorney, district attorney, and district judge during his residence there. He moved to El Paso in 1902 and continued his law practice.
The collection contains correspondence, legal documents, and printed material related to the personal and professional activities of Beauregard Bryan. The bulk of the papers dates from 1893 to 1899 and relates to Bryan's law practice. They consist primarily of correspondence concerning various legal cases, such as collection of debts, estates, and property matters.
This paper has been withdrawn.