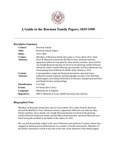 Bowman Family Papers, 1835-1990
Description
Members of Bowman family first came to Texas about 1833, when Jesse B. Bowman crossed the Red River from Arkansas territory, apparently followed soon after by other family members. Jesse and his son Joseph Bowman became involved in the growing conflict between American settlers and the Mexican government, and Jesse Bowman was listed among those killed in the Battle of the Alamo in 1836.
Correspondence, legal and financial documents, personal items, collected research material, and photographs are part of the Bowman family papers, providing information on business and personal activities and family history and genealogy.
This paper has been withdrawn.