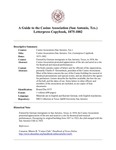 Casino Association (San Antonio, Tex.) Letterpress Copybook, 1875-1882
Description
Formed by German immigrants in San Antonio, Texas, in 1854, the Casino Association promoted appreciation of the arts and acted as a site for theatrical and musical performances.
The book contains copies of letters sent by officials of the organization, primarily Charles F. Griesenbeck, president of the Casino Association.Most of the letters concern the use of the Casino building for musical or theatrical presentations and special events, and are directed to the agents for performers. Letters describe the facilities available, the fees for use of the hall, and the dates of use. Some letters to other officers and members of the association are included, as are copies of loan documents.
This paper has been withdrawn.