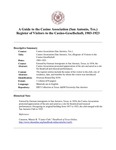 Casino Association (San Antonio, Tex.) Register of Visitors to the Casino-Gesellschaft, 1903-1923
Description
Formed by German immigrants in San Antonio, Texas, in 1854, the Casino Association promoted appreciation of the arts and acted as a site for theatrical and musical performances.
The register entries include the name of the visitor to the club, city of residence, date, and member by whom the visitor was introduced.
This paper has been withdrawn.