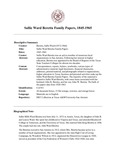 Beretta (Sallie Ward) Family Papers, 1845-1965
Description
Sallie Ward Beretta was an active member of numerous local organizations in San Antonio. Following her interest in higher education, Beretta was appointed to the Board of Regents of the Texas State Teachers Colleges for almost two decades.
Correspondence, reports, bylaws, yearbooks, various types of administrative material, legal documents, financial documents, addresses, printed material, and photographs related to organizations, higher education in Texas, business and personal activities make up the Sallie Ward Beretta Family Papers. The majority of the material is related to Sallie Ward Beretta, with some items associated with her husband, John K. Beretta, and her son, John W. Beretta. The bulk of the papers date from 1920-1963.
This paper has been withdrawn.