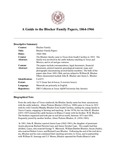 Blocker Family Papers, 1864-1966
Description
The Blocker family came to Texas from South Carolina in 1852. The family was involved in the cattle industry ranching in Texas and Mexico, and in oil and gas ventures.
The papers include correspondence, legal documents, financial documents, printed material, genealogical material, maps and photographs documenting several family members. The bulk of the papers date from 1893-1964, and are related to William B. Blocker. Others documented include John R. Blocker and Annie L. Blocker.
This paper has been withdrawn.