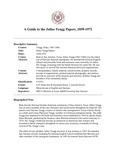 Tengg (Julius) Papers, 1859-1972
Description
Born in San Antonio, Texas, Julius Tengg (1867-1966) was the eldest son of German-Austrian immigrants. He attended the German-English School and joined the book and stationery store owned by his father, Nic Tengg, remaining with the family business his entire life. He was also active in several San Antonio fraternal and social organizations.
Correspondence, family material, school records, property records, records of organizations, printed material, photographs, and artifacts provide an overview of the interests and activities of Julius Tengg and members of his immediate family.
This paper has been withdrawn.