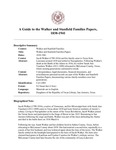 Walker and Stanfield Families Papers, 1838-1941
Description
Jacob Walker (1799-1836) and his family came to Texas from Louisiana around 1830 and settled in Nacogdoches. Following Walker's death at the Battle of the Alamo in 1836, his widow Sarah Ann Vauchere Walker (1811-1899) relocated to McLennan County, Texas, where ensuing generations continued to reside.
Correspondence, legal documents, financial documents, and miscellaneous personal records are part of the Walker and Stanfield Families Papers, documenting various family members over four generations.
This paper has been withdrawn.