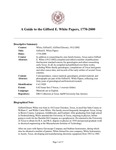 White (Gifford E.) Papers, 1770-2000
Description
In addition to researching his own family history, Texas native Gifford E. White (1912-2002) compiled and edited a number of publications that became standard sources for genealogists and others researching early Texas. In all, he compiled and published over thirty works, including White family genealogies, compilations of Texas land grants and other source data, and records of the early settlers of several Texas counties.
Correspondence, source material, genealogies, printed material, and photographs are part of the Gifford E. White Papers, reflecting over forty years of genealogical and historical research.
This paper has been withdrawn.