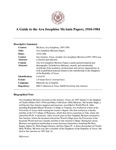 McAmis (Ava Josephine) Papers, 1910-1984
Description
San Antonio, Texas, resident Ava Josephine McAmis (1897-1991) was a chemist and educator.
The Ava Josephine McAmis Papers contain printed material and photographs. Included are diplomas, awards, and membership certificates from academic, professional, and service organizations as well as published material related to her membership in the Daughters of the Republic of Texas.
This paper has been withdrawn.