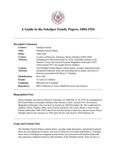 Schelper Family Papers, 1884-1926
Description
A native of Hanover, Germany, Henry Schelper (1844-1928) immigrated to the United States in 1870, eventually settling in San Antonio, Texas. He married Austrian Magdalena Schneider (1847-1936) around 1871; the couple had six children.
The Schelper Family Papers contain letters, receipts, legal documents, and printed material. Items are miscellaneous in nature, and most of them are associated with Henry C. Schelper.
This paper has been withdrawn.