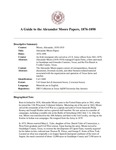 Moore (Alexander) Papers, 1876-1898
Description
An Irish immigrant who served as a U.S. Army officer from 1861-1879, Alexander Moore (1830-1910) managed Capote Farm, a farm and ranch in Guadalupe and Gonzales Counties, Texas, and the Frio Ranch in Uvalde County, Texas.
The Alexander Moore papers consist of correspondence, financial documents, livestock records, and other business-related material associated with the organization and operation of Texas farms and ranches.
This paper has been withdrawn.