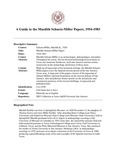 Schuetz-Miller (Mardith) Papers, 1954-1983
Description
Mardith Schuetz-Miller is an archaeologist, anthropologist, and author. Throughout her career, she has directed archaeological excavations in Texas, the American Southwest, and Latin America and has written extensively on the archaeology and history of those areas.
Made up of typescripts of her historical writings, the Mardith Schuetz-Miller papers cover the Spanish mission period of the San Antonio, Texas, area. A large part of the papers consists of the typescript of Schuetz-Miller's doctoral dissertation on the mission Indians of San Antonio. Also included are shorter articles on the architecture and construction practices of the mission buildings, in typescript and published form.
This paper has been withdrawn.