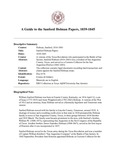 Holman (Sanford) Papers, 1839-1845
Description
A veteran of the Texas Revolution who participated in the Battle of San Jacinto, Sanford Holman (1816-1843) was a resident of San Augustine County, Texas, and served as a Customs Collector for the San Augustine District (1842-1843).
The collection contains legal documents recording land transactions and claims against the Sanford Holman estate.
This paper has been withdrawn.