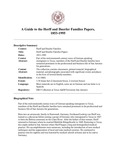 Herff and Duerler Families Papers, 1853-1995
Description
Part of the mid-nineteenth century wave of German-speaking immigrants to Texas, members of the Herff and Duerler families have remained prominent in the professional and business life of San Antonio for generations.
The collection contains documents, printed material, biographical material, and photographs associated with significant events and places in the lives of several family members.
This paper has been withdrawn.