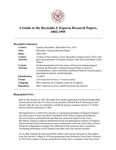 Esparza (Reynaldo J.) Research Papers, 1802-1995
Description
A native of San Antonio, Texas, Reynaldo J. Esparza (born 1923) is the great-great-grandson of Gregorio Esparza, who died in the Battle of the Alamo.
Produced and gathered in the course of historical and genealogical research, the Reynaldo J. Esparza Research Papers consist of correspondence, source documents, published material, research papers, genealogical material, and photographs.
This paper has been withdrawn.