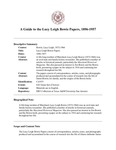 Bowie (Lucy Leigh) Papers, 1896-1957
Description
A life-long resident of Maryland, Lucy Leigh Bowie (1872-1966) was an avid state and family history researcher. She published a number of articles in historical journals, particularly the Maryland Historical Magazine.
The Lucy Leigh Bowie Papers consist of correspondence, articles, notes, and photographs produced and accumulated in the course of research into the life of Alamo defender James Bowie, his family, and the origins of the Bowie knife. The papers are arranged into series by document type.
This paper has been withdrawn.