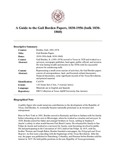 Guide to the Gail Borden Papers, 1830-1956 (bulk 1830-1860)
Description
A public figure who made numerous contributions to the development of the Republic of Texas, Gail Borden, Jr. eventually became nationally prominent as an inventor and entrepreneur.
Representing a small cross-section of his many activities, the Gail Borden papers consist of correspondence, land- and livestock-related documents, financial documents, some significant records of the Texas Revolution, and printed material.
This paper has been withdrawn.