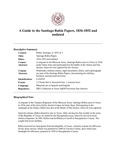 Rabia (Santiago) Papers, 1836-1852 and undated
Description
The Santiago Rabia Papers contain a small selection of miscellaneous items reflecting military, business, and personal activities. The earliest items are three small notebooks which contain notes and lists of soldiers relating to the Mexican Army's campaign in Texas in 1836. Included in the notebooks are itineraries of the army's route from Mexico to Texas, very brief accounts of the Battle of the Alamo and the Battle of San Jacinto, short lists of Mexican soldiers, an account of Antonio López de Santa Anna's address to his troops upon his departure from Texas, and some personal notes on Rabia's family.
Later items concern Rabia's life in Texas and include military returns of militia companies in Nacogdoches, orders from the Republic of Texas government, legal documents, letters, and a photograph of Rabia's daughter, Emily Rabia Wald. The government orders concern the provision of supplies to destitute families and the treatment of Mexican-American and Indian citizens, the latter signed by president Sam Houston.
This paper has been withdrawn.