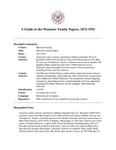 Moussier Family Papers, 1872-1931
Description
Tennessee native, lawyer, and former Alabama legislator De La F. Roysdon (1800-1852) arrived in Texas from Mississippi in 1831 May. He was one of Stephen F. Austin's colonists and served as Alcalde. His daughter Marie Adele Roysdon (1837-1909) married Louis E. Moussier; their descendants lived in various Texas communities, including El Paso and San Antonio.
The Moussier Family Papers contain letters, legal documents, printed material, photographs, and scrapbooks. Most of the letters are personal items addressed to Marie Moussier. The scrapbooks contain clippings, mementoes, genealogical notes, and photographs and were apparently maintained by Marie Moussier and her daughter Adele Moussier O'Keeffe.
This paper has been withdrawn.