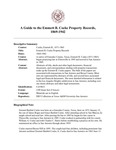 Cocke (Emmett B.) Property Records, 1869-1942
Description
A native of Gonzales County, Texas, Emmett B. Cocke (1871-1965) began practicing law in Floresville in 1895 and moved to San Antonio in 1905.
Abstracts of title, deeds and other legal documents, financial documents, and correspondence dealing with property transactions make up the Emmett B. Cocke papers. The bulk of the papers are associated with transactions in San Antonio and Bexar County. Most sites are represented by abstracts of title, and several have associated legal and financial documents. The most detailed information is related to the Los Angeles Heights subdivision in San Antonio, including over one dozen abstracts and other legal instruments.
This paper has been withdrawn.