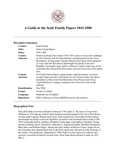 Seale Family Papers 1841-1888
Description
North Carolinian Elias Seale (1793-1857) came to Texas from Alabama in 1835 January with his three brothers and participated in the Texas Revolution, serving under Captains Burnett and Lynch. Elias remained in Texas after the Revolution and brought his family to the new Republic. Among the early settlers of Brazos County, Seale was on the committee that selected the first county seat and served on its first grand jury.
The Seale Family Papers contain letters, legal documents, and land records. Papers pertain to Eli Seale, his son Thomas Seale, and others. Included is a letter from Paul Bremond of the Houston and Texas Central Railway Company, seeking to hire slaves for work on the railroad.
This paper has been withdrawn.