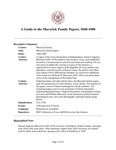 Maverick Family Papers, 1840-1980
Description
A signer of the Texas Declaration of Independence, Samuel Augustus Maverick (1803-1870) settled in San Antonio, Texas, and established himself as a businessman involved in real estate and ranching. He was also active in public life, serving as mayor of San Antonio, a representative in the Congress of the Republic of Texas and the state legislature, and chief justice of Bexar County. He and his wife Mary Ann Adams (1818-1898) had ten children; six survived to adulthood. Their fourth son, William H. Maverick (1847-1923), was particularly active in the management of the family land.
Gathering letters and other family items, the Maverick family papers span five generations of a San Antonio, Texas, family. The majority of the papers consist of letters exchanged by family members. The remaining papers consist of an assortment of family documents, including legal documents, financial documents, school papers written by Lewis and William Maverick, travel documents, printed material, genealogical notes, and a few photographs, primarily family group photos.
This paper has been withdrawn.