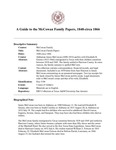 McCowan Family Papers, 1848-circa 1866
Description
Alabaman James McCowan (1808-1852) and his wife Elizabeth H. Greene (1815-1866) immigrated to Texas with their children sometime between 1839 and 1845. The family settled in Harrison County. In some sources, the family surname is spelled McCown.
The collection contains correspondence, financial records, and legal documents. Included is an 1850 letter from Sam Houston to James McCowan commenting on an unnamed newspaper. Two tax receipts list the lands owned by James McCowan and his estate. Legal documents refer to McCowan's estate and that of his wife, Elizabeth.
This paper has been withdrawn.